Just over a year ago, oil giant BP announced its "ambition" to become a 'net zero' company by 2050 or sooner. At the time, many analysts said BP's ambition was "fuzzy and vague", while others pointed out significant loopholes which undermined BP's claim of now being "consistent" with the targets of the Paris Climate Agreement. But ahead of BP's Annual General Meeting (AGM) this year, many investors and other organisations were still being won over by BP's rhetoric.
So we decided that now was the time to dig a bit deeper, to expose the holes in BP's Net Zero plans. Over the past week, we've launched a new myth-busting film, an in-depth blog and put probing questions put directly to BP's Board at the AGM, shining a spotlight on just how far the company's strategy is falling short…
---
FILM: BP's 'Net Zero' myths…BUSTED!
On the eve of BP's AGM, we launched this brand new film which (in under three minutes!) busts five of the biggest myths about BP's business. From claiming to be consistent with the Paris targets to BP's widely touted "40% production cut", we show how the oil and gas giant simply isn't doing what the science demands and why we don't need BP to get to 'net zero' – we need it to phase out its fossil fuel business completely!
Click below to watch
---
BLOG: 10 Big Problems with BP's 'Net Zero' claims
We've also published a brand new, in-depth blog on the 10 Big Problems with BP's 'Net Zero' claims. It gives the full background to the film, signposting all the important reports and analysis of BP's plans. It digs deeper into the company's claims about carbon capture and storage, overstated offsetting schemes and why we need to not just focus on the emissions from the oil and gas BP produces itself but the products it sells too.
Have a read over on our 'Behind the Logos' website by clicking below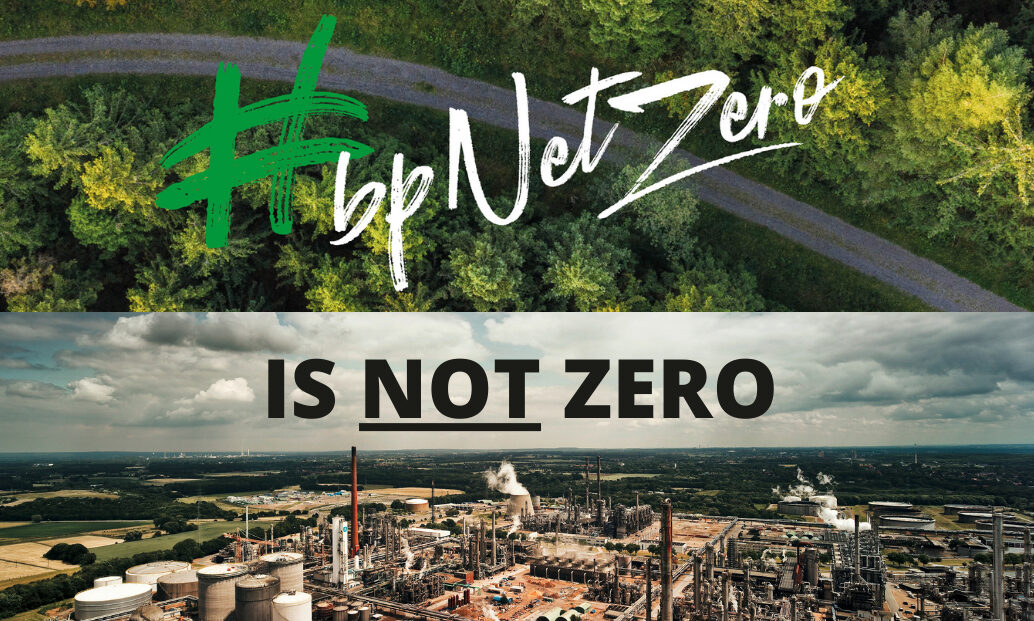 ---
BP AGM: In response to our questions, CEO admits production cut is 27%
On Wednesday 12th May, BP hosted it Annual General Meeting (AGM) from its London HQ, once again streamed live online due to Covid-19 regulations. As well as the more administrative updates from the company's Board, it offered an opportunity for shareholders to put questions to CEO Bernard Looney and Chairman Helge Lund.
Here's a brief summary of the three questions we put to the Board (but you can read a full transcript at the end of this post):
(1) We asked BP's CEO about the company's widely promoted "40% production cut" and whether BP should actually use the more accurate figure of 27% – to reflect that it has left out its huge stake in the Russian oil firm Rosneft from its figures…
---
BP's full responses to our questions submitted at the company's AGM
On BP's stated cut to production and its reporting of its stake in Russian oil firm Rosneft
Jess Worth, Co-director of Culture Unstained, asked:
"In the Annual Report, the company's stake in Russian oil firm Rosneft is included as part of reporting of production volumes, presented as a positive asset to the upstream business. However, production originating from Rosneft is not included within the company's 'net zero' aims or the planned 40% production cut. Should the company be consistent and therefore use the more accurate figure of 27% for your production cut?"
Bernard Looney, BP CEO, said:
"…There is no change to our historical reporting here. We have not included their emissions in our historical [reporting] and we don't today. I think importantly, Jessica, we're very transparent about that. So it's not like we're trying to say one thing and behind the scenes we mean something else. From 12th February [2020], we've been crystal clear that this is our upstream oil and gas production, it doesn't include Rosneft. And I would go so far as to say that people can therefore do as you have just done – it's at 40% reduction in our upstream production or, in your instance, if you want to include that [stake in Rosneft] it's a 27% reduction. I think in either case, it's a material number – and quite unique, I would add, in our sector. So, your point is well made, your math is correct. We are doing what we've done historically and very transparent about that."
---
On BP's continued investments in new exploration, in particular, in Western Australia
Chris Garrard, Co-director of Culture Unstained asked:
"BP has made a commitment to end drilling in 'new countries' but this is not a commitment to end new exploration. Given that proven oil and gas reserves are more than enough to take the world beyond 2C of global heating, does any further new exploration not heighten the risk of stranded assets and run counter to the targets of the Paris Agreement? In particular, is BP's interest in the Burrup Hup in Western Australia a concrete example of this concern, given that that development will likely lead to the production of fossil gas until 2070 and is considered to be the most polluting fossil fuel project ever proposed in the country?"
Helge Lund, Chair of BP, said:
"It's a very essential and important question. I think the context here is that we need oil and gas in the decades to come although we expect far lower demand for oil and gas in 2050 and beyond, as we have described earlier in our strategy. So, we don't intend on this call to discuss particular projects but any further new material capex investment decision would need to be evaluated against our criteria for Paris consistency as we have committed to in the context of Climate Action 100+ shareholder resolution. [In] reflecting our net zero ambition, we have taken a very hard look at the role of exploration. We don't intend to enter into new countries for exploration as you have seen. And our exploration access capital spend has already reduced and over time we expect it to reduce further. So I think we are adequately your key challenge."
---
On BP's partnership with the Science Museum Group and its involvement in cultural sponsorship
Chris Garrard, Co-director of Culture Unstained asked:
"The Science Museum in London is currently facing strong opposition from scientists and youth climate activists over its decision to allow Shell to sponsor its upcoming exhibition on carbon capture and storage. In light of that controversy, will BP be taking the opportunity to review its own relationship with the Science Museum Group and, more broadly, its involvement in cultural sponsorship, given the potential risks these investments in reputation management now present?"
Bernard Looney, BP CEO, said:
"I can't comment on what another company is doing with the Science Museum. I like the ideas around the carbon capture exhibition, I think that sounds great. For people who've got a lot of expertise of taking carbon out of the ground, I think, many of those same people are well placed to help put carbon back in the ground, which is what carbon capture is all about. I would also add that Sir Ian Blatchford, I think, does an absolutely fantastic job of running the Science Museum and keeping it very, very relevant in today's society and modernising it and progressing it in a way which is consistent with its name, being at the cutting edge, so to speak, of what's happening in society.

In terms of our own relationship to arts and culture, you know, we've been doing this across the world for over 50 years. I think something like 53 million people have engaged in events or whatever that have been supported by BP over that time period. I think that's just here in the UK actually. And it's nothing more and nothing less than part of our commitment to give back. We operate as part of society, we operate as part of communities around the world and here in the UK. It's a natural thing to want to give back, that's what our people want who work for BP, who are good people that are trying to do the right thing, and they want us to give back just like we did, for example, during the pandemic where we have given free fuel to all the emergency services' vehicles in Britain, both in the first lockdown and in this more recent lockdown.

There's nothing more to it than giving back. Now, clearly there are some who take a different view. From our perspective, our position has always been that the world is always going to do better with dialogue and engagement, that's our view, others may have a different view, but that's our view. So, therefore we want to continue to be involved in such things but of course we're not the only party in those agreements. We'll never, as you might imagine, impose ourselves on anybody but I'm proud of what the company has done over decades in the arts. There's nothing more to it than us taking an opportunity to give back a little bit to society and we'll continue to work with institutions in the future that want to work with us and that's what we'd intend to do. But it's part of a broader part of our agenda around being good members of society and trying to add a little bit to the communities in which we work. I hope that helps a little bit around the context on how we think about arts and culture."